Details
MIXCRAFT 9
Pro Studio

PROBEER DIRECT DE DEMO>>>
De beste workflow in de industrie - Gemaakt door en voor muzikanten, Mixcraft is ongeëvenaard krachtig en eenvoudig te gebruiken. Maak opnames en mix losse tracks tot in de perfectie in no-time. Mixcraft beschikt over een zeer intuïtieve interface, razendsnelle audio engine, niet van de werkelijkheid te onderscheiden pitch-shift en time stretch technologie en werkt nagenoeg met alle hard -en software op de huidige markt samen.


A Complete Recording Studio
Record an unlimited number of audio and virtual instrument tracks, edit, crop, and crossfade sounds effortlessly, add tons of effects and automation, and mix and master your project to WAV, MP3, and other formats.
---
Massive Loop Library
Mixcraft's massive loop library features over 7,500 professionally-produced loops, music beds, sound effects, and percussion samples, in a massive array of genres. Infinitely broaden your sound palette with built-in Freesound.org browsing and import functions.
---
Live Performance
Mixcraft's Performance Panel offers incredible features for live performance and loop-based composition, rivaling the best DAWs on the market. Trigger audio and MIDI loops with a Launchpad, MIDI controller, or even your typing keyboard. Record directly to slots, and make real-time edits to sounds mid-performance.
---
MIDI Scoring and Editing
Compose and edit performances with Mixcraft's powerful piano roll editor, notation editor, and step editor views. Create tempo-synced MIDI automation with Mixcraft's powerful new automation tools, and use the new Step Recording feature to create perfect MIDI patterns.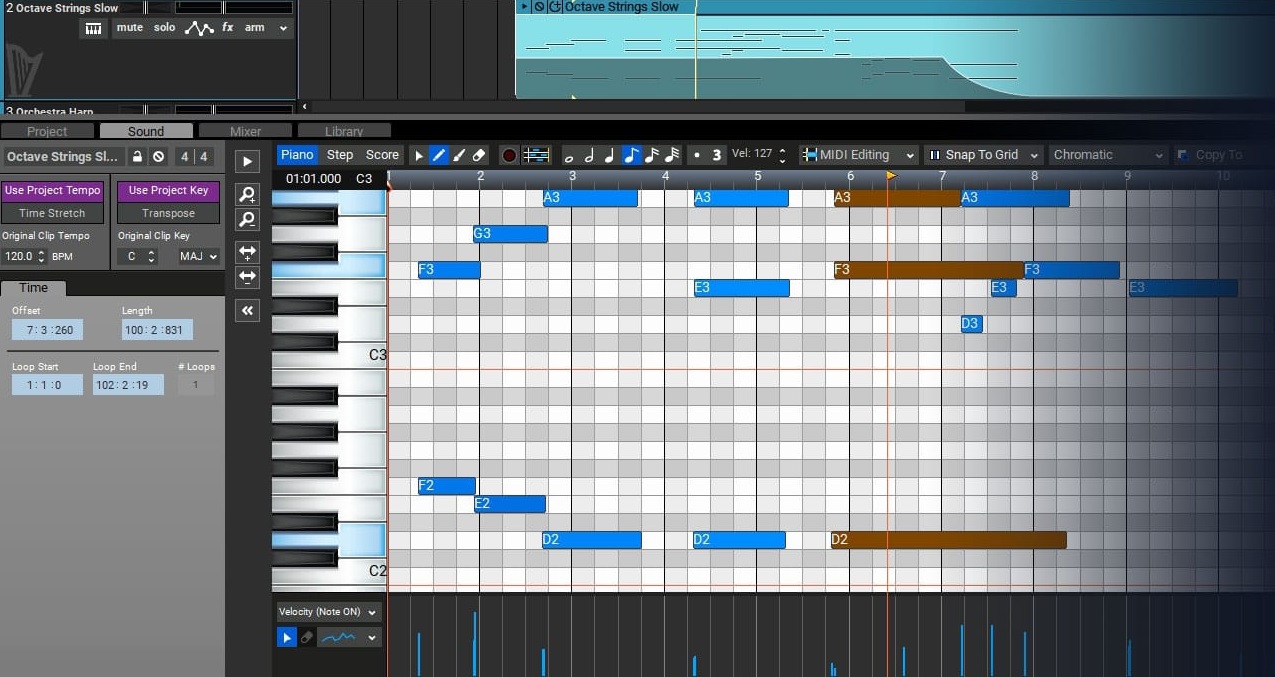 ---
Instruments and Effects
Mixcraft's suite of effects and instruments is unrivaled, featuring a massive library of sampled instruments, powerful samplers, authentic emulations of classic synthesizers, electric pianos, rock organs, and a massive suite of ToneBoosters reverbs, compressors, filters, equalizers, and other effects.
Mixcraft Pro Studio is packed with over $1300 worth of additional plug-ins, including Voltage Modular Ignite, Melodyne Essentials, iZotope Mastering Essentials, Pianissimo Grand Piano, incredible effects and instruments from ToneBoosters, G-Sonique, Applied Acoustics, Memorymoon, Cherry Audio, and so much more!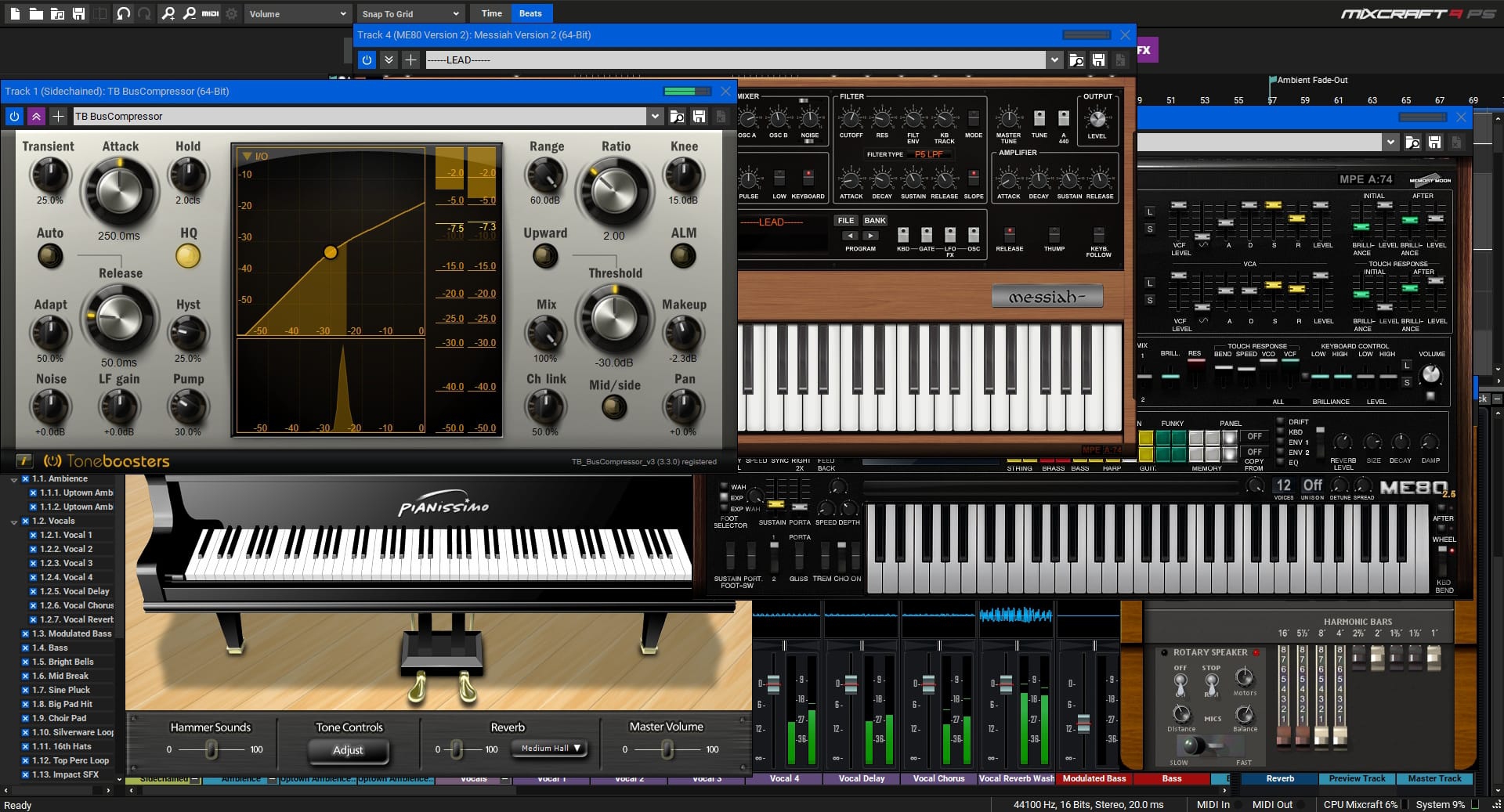 ---
Geïntegreerde Melodyne tuning software
Deze revolutionaire technologie van de firma Celemony is veruit de meest natuurlijk klinkende en eenvoudig te gebruiken tuning software op de markt. Mixcraft 9 Pro Studio gaat een stap verder door Melodyne Essential direct direct in het clip-edit venster van Mixcraft Pro Studio geïntegreerd (waarmee tijdrovende "transfers" van het ene naar het andere programma tot het verleden behoren). Of dat je wat subtiele intonaties aanpast of juist noten compleet veranderd als onderdeel van het creätieve proces als producer, pitch editing voor vocalen was nog nooit zo eenvoudig!
---
Advanced Routing and Control
Mixcraft is packed with routing and control features, including nested submixes, track grouping, output tracks, native sidechaining, advanced MIDI routing, and so much more.
Mixcraft offers support for a vast array of hardware control surfaces, including Mackie Control-compatible mixing boards and Novation's Launchpad.

---
Video bewerking
Mixcraft is meer dan alleen een fantatische DAW (Digital Audio Workstation) - het is tevens een volledig werkzaam pro video bewerkings pakket! Laadt video's en foto's in, maak prachtige crossfades en overgangen. Voeg daarbij een professioneel tintje toe door middel van video effecten of maak in een handomdraai een diavoorstelling op muziek van je eigen foto collectie. Voeg titels toe en/of scrollende teksten, remix de audio of voeg een muziek track of voiceover toe. Ben je klaar? Render dan het complete video project naar diverse populaire formaten, zoals DVD of YouTube™ upload formaat. Mixcraft 8 ondersteund nu tevens MP4 video naast WMV en AVI formaat.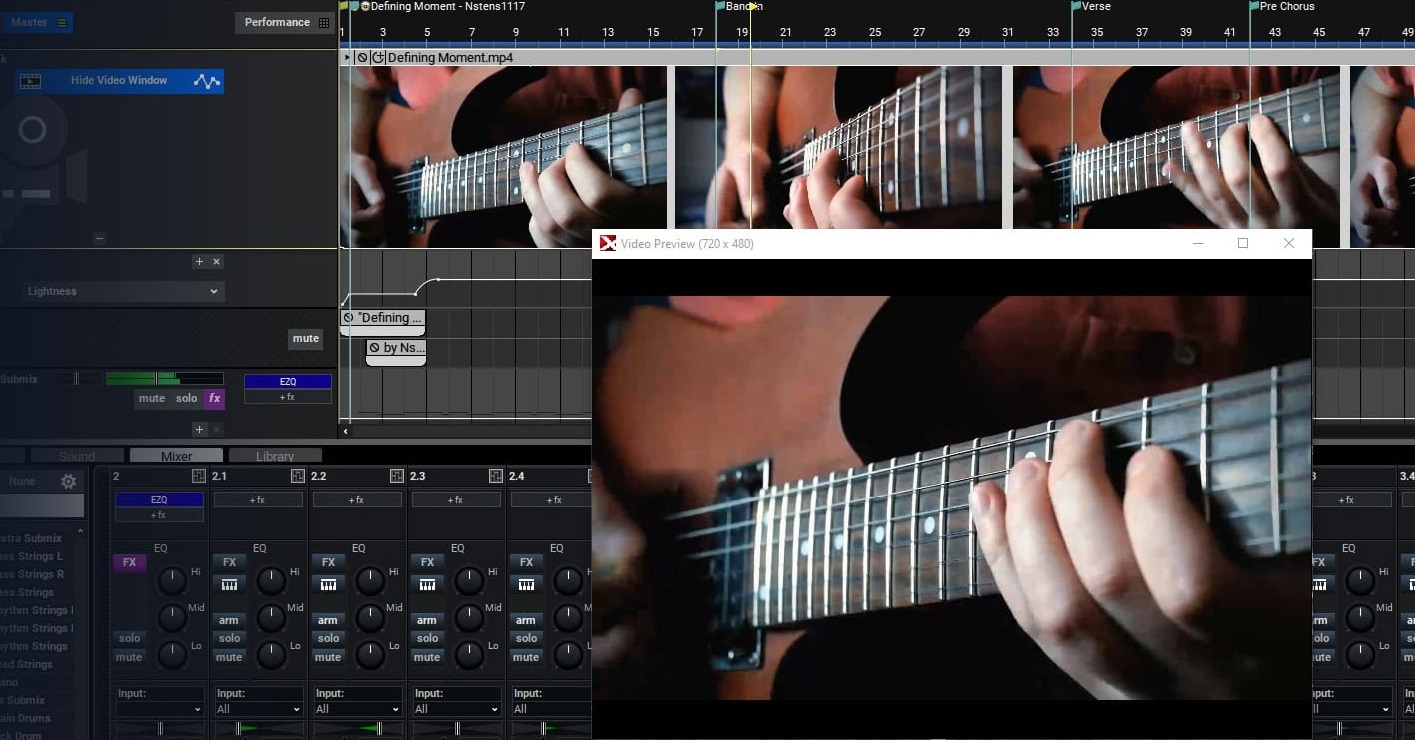 ---
Mixing and Mastering
View and edit multiple parameters simultaneously with powerful lane and clip-based automation tools. Every sound features independent volume, pitch, and filter automation, and a master tempo track offers flexible tempo changes. Mixcraft 9's new curved automation and automation-editing features make it easier than ever to create the perfect mix.
Mixcraft's mixer is packed with power, with every mixer channel featuring overdrive, compression, parametric equalization, an oscilloscope, and a spectral analyzer.
---
Modular Synthesis
Mixcraft 9 Pro Studio includes Cherry Audio's award-winning Voltage Modular Ignite, a complete Eurorack-style virtual modular synthesizer featuring 45 modules and hundreds of presets. Experiment with the endless power of modular synthesis to create massive, deeply complex patches.
---
Pianissimo Grand Piano
No recording studio would be complete without a fantastic-sounding grand piano, and the award-winning Pianissimo Grand Piano truly sounds and feels extraordinary. From the very first note, you'll understand why MusicTech magazine called Pianissimo "clear, responsive and warm, without sounding over-produced or sterile."
---


Systeem eisen:

1.8 GHz Dual Core CPU (Quadcore of hoger aanbevolen)

8 GB Ram (meer is beter!)

Windows® 10, 8, 7 (32 of 64 bit)

Geluidskaart, USB of Firewire audio interface

O.a. Nederlandstalig

De software wordt als download geleverd

Mixcraft 9 zelf
uitproberen?